UPUPAEPOPS - THE CLUB'S LEGEND
It all started, as it always does, in an izakaya, a Japanese drinking establishment, in the team's hometown of Omiya.......
The team colour was yellow, the team name was Shane Kita-Kanto, and it was felt that a nickname, something less clumsy and formal was needed, even if it meant changing the strip.......
Alan Hill, otherwise known as 'Mr.Football Kit', sat down, ordered a large beer, and beamed widely from ear to ear,
"I've got it!" he proclaimed, "I have the perfect kit for us!"
If Universidad (a Peruvian First Division side) had known the angst they caused Kanto that night, they would have switched to a plain and simple little number for their forthcoming season, if only to save other local sides sharing the same problems.......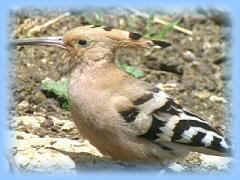 The Universidad kit was lovely, it was Umbro (i.e. British), it was off-red, and off-white, in a way that would cover up both blood and sweat simultaneously, and resembled an Arsenal strip designed by Gaudi or Picasso, or some such Spanish speaking artist with a good eye for the interesting........
.......and it had a bloody great 'U' on the badge.
Try as we might, and by golly we did, every animal, bird, fighting machine and cultural artefact was mentioned for the Kanto nickname. We focused on 'K' and on 'S', but in the back of our minds, we knew that even if we never saw a Peruvian football shirt again, we had seen the 'U' on the badge, and something of that magnitude cannot be ignored.......
The more the beer flowed that night, the deeper into our sub-conscious the attempts to grasp a name we ploughed, and suddenly, without any explanation, Mike Coleman stunned the table (and indeed those gathered around it) with the words, "UpupaEpops!"
It was with almost immediate effect that it took hold of the minds of the Kanto players, it sounded war-like, threatening, stupid, unique and incomprehensible, it was, in other words, just the ticket........
.......except only the ornithologically-minded Coleman had any idea what it was.

Upupaepops is the Latin name for a fairly common European and Asian bird otherwise known as the 'Hoopoe', it looks a little surreal, it ranges from Britain to Japan, and it's pink (try mixing the two colours from the Universidad top together), and therefore seemed, at a stretch, to fit the bill perfectly........
........to further enlighten, here is an extract from Witherby's 'Handbook of British Birds', published in 1943, of the Hoopoe's behaviour........
"Feeds mainly on ground, walking with ease (and even running) with accompanying movement of head. Fond of feeding on lawns and path or, alternatively, on manure or refuse-heaps, probing for larvae, etc. Crest depressed when at rest, but erected when excited or alarmed and for a moment on settling. Flight is not weak and uncertain as it appears, for it will readily elude trained falcons, mounting easily into the air away from them. Perches in trees, as well as on buildings, walls, etc., and according to Lilford will occasionally climb up tree like a woodpecker, but this is not usual. Fond of dust and sand-baths."
So it was written, so let it be done, anything that walks with ease (and even runs), likes feeding, erects when excited, escapes predators, sits on walls and likes dust and sand-baths is a perfect emblem of Kita-Kanto........
We proudly represent at the Kawaguchi-ko Half-Soccer Tournament in Yamanashi Prefecture on the weekend of October 28/29 2000......
The "Shane Kita-Kanto UpupaEpops"......
"WE HOPE TO MAKE MANY FRIENDS AND SHOW 'SEXY FOOTBALL' FROM THE MOTHER COUNTRY......YOROSHIKU O NEGAISHIMASU."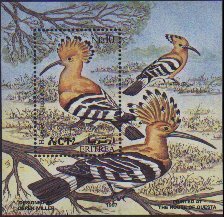 UpupaEpops photographs by Dave Gosney, Eric Hosking and D.Roberson, Eritrea and Qatar stamps courtesy of www.bird-stamps.org

go to the Kawaguchi-ko Soccer Festival Report Page

back to homepage

back to Latest News