Here's a brief photographic journey through Kita-Kanto's colourful past.....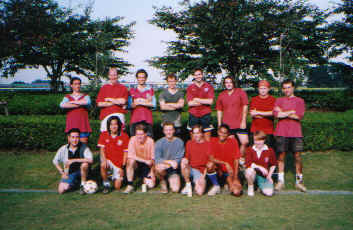 The original 1996 Kanto team, resplendent in the mixed 'red' shirts, after a gruelling encounter at Sogo Undo koen, Kita-Moto.
Players (l»r) Back Row: Dave Threadgold, Paul Douglas, Mike Coleman, Duncan McKenzie, Ian McCartney, Mark Dunnett, Alan Hill, James Knight. Front Row: Mark Lewis, guest, Robin Marriott, Chris Jones, Matt Gilson, Lester Bunns, Kelly Cunningham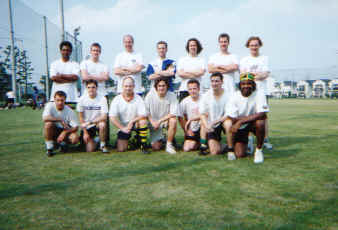 Autumn 1997 Kanto, before a disappointing 3rd place in the inaugural 'Billy Barew's Soccer Tournament'
Players (l»r) Back Row: John Rawana, guest, Paul Douglas, Chris Jones, Mike Coleman, Ian Varo, Graham Adams. Front Row: James Knight, Grant Robertson, Alan Hill, Nick Abrahams, Dafydd Thomas, Roberto Rabbini, Dave Cornwall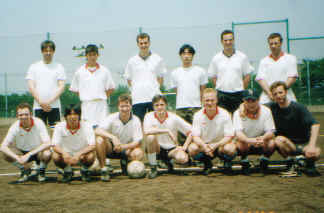 Spring 1998 Kanto, a turbulent time for the 'whites', with a lack of regular players. Away in Tokorozawa, before a classic hard-fought draw.
Players (l»r) Back Row: Mike Coleman, guest, Alex Yardley, guest, Dave Rudd, James Knight. Front Row: Chris Jennings, guest, Roberto Rabbini, Grant Robertson, guest, Alan Hill, Chris Jones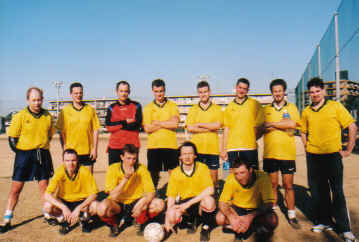 Spring 1999 Kanto, enjoying the sunshine at a parched Horisaki koen in Owada.
Players (l»r) Back Row: Alan Hill, Dave Rudd, Richard Evans, Alex Yardley, Dave Leverick, Matt Watson, Mike Coleman, Mike Holmes. Front Row: Chris Jennings, guest, Brian Howell, James Knight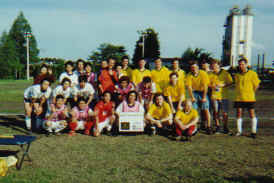 Kumagaya 'Soccer Festa Spring 1999', at the picturesque Taiheiyo Cement Works ground in Kumagaya.
Players (in no particular order): Matt Watson, James Knight, Alan Hill, Alex Yardley, Richard Evans, Andy Davey, Neil Kelly, Mike Coleman, Chris Jennings, Dave Leverick, Brian Howell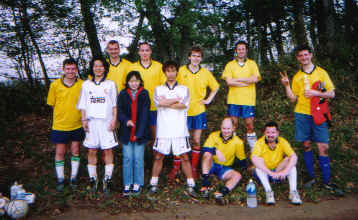 Spring 2000 Kanto, exhausted after a poor victory against Meikai University Dental School in Kawakado.
Players (l»r): Brian Malone, Alex Yardley, Martin Hill, Jerry Colthup, Alan Hill (seated), Mike Coleman, Alisdair Scrimgeour (seated), Matt Watson

back to homepage
Copyright © 2000 [Kita-Kanto FC]. All rights reserved.
Revised: July 28, 2000 .